---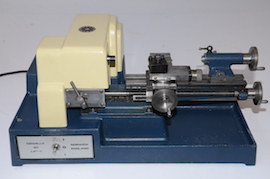 Very good Cowells ME90 Lathe,
No hacksaw marks on the bed, etc.
---
IMPRESSIVE / LARGE / QUALITY, complete workshop setup in Bexhill, near Hastings, for sale.
Collected and used by a private model steam engineer.
Includes: Myford Super 7B, rare and desirable Myford 280 lathe, Colchester Student, Myford Mini-Kop production lathe, Myford VMC mill, Harrison 600 mill, Elliott shaper, Superior surface grinder, Edwards sheet former, Edwards shear, Gabro folder, Gabro metal notcher, 2nd folder, Denbigh No3 flypress, Sumaco TWL1000 wood lathe, Meddings & Progress pillar drills, Startrite Bandit bandsaw, Zinken Compact 21circular saw / planer, Warco metal bandsaw, dust extractor, welding / brazing table, sand blaster, little used Migatronic MTE220 welder, disc sander, tool sharpener, etc.
All above come with a host of accessories, the Myford 280 is particularly impressive with taper turning, steadies, QCTP, chucks, coolant etc....
Happy to sell the complete workshop.
Easy flat access, just one small lip/step out of workshop. You will need to bring your own lifting and moving gear
---
A good Cowells CW90 Clockmaker's
Lathe. Variable speed,
SOLD
---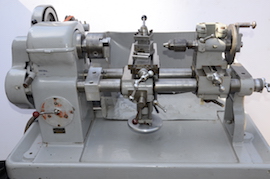 Rare & lovely Scope Lathe. Elevating
crosslide, offest & dividing tailstock,
lever action slotting tailstock, etc, etc.
QUITE SPECIAL. Have a look.
SOLD
---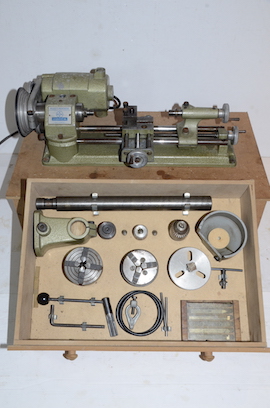 Emco Unimat SL Lathe. Austrian.
Good condition with a host of accessories.
Milling post, 3 & 4 jaw chucks, tooling, etc.
SOLD
---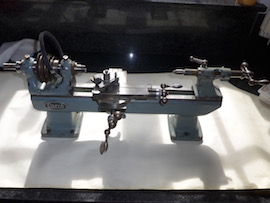 Lorch LLN 10mm lathe in good condition.
Comes with motor bracket & countershaft.
Good selection of the long collets.
SOLD
---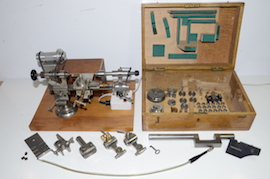 Stunning B.T.M. watchmaker's lathe
by ROF for E.H.Jones Ltd.
Original box.
Very Best Example we have seen.
SOLD
---