---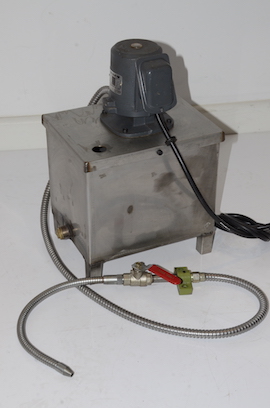 Stainless tank & coolant pump for lathe
or millig machine. Ideal for Myford, Emco,
Warco, Wabeco, Axminster, Chester, etc.
Will fit Myford's Industrial cabinet cupboard.
Single Phase & hardly used.
---
2 x Hemmingway Quickstep Mill.
Will fit the Myford lathes. With collets & Y.
Very desribly John Payne designed mill.
Sunning condition. Very smooth running.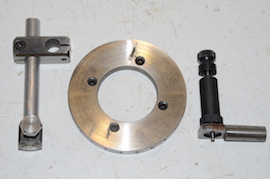 We also have the above Quickstep indent and chuck indexing ring. Indent fixes to Myford lathes.
---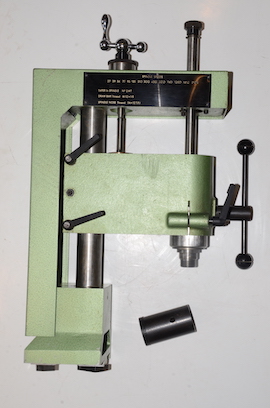 Myford VM-D Milling attachment to fit
Myford's Super 7, ML7R or ML7 lathes.
Super item, difficult to find.
Version to fit the Myford ML10 below.
---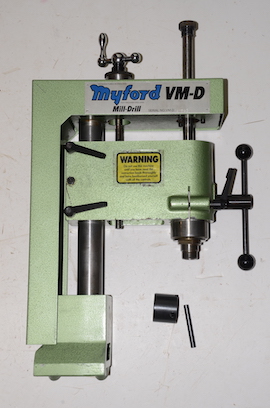 Myford ML10 VM-D Milling attachment.
Turn your ML10 into a milling machine.
Getting very difficult to find nowadays.
---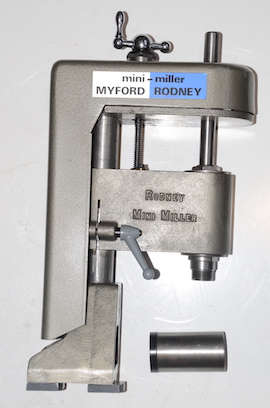 Myford Rodney Mini Miller attachment.
Fits the Myford ML7, ML7R & Super 7.
Lovely original condition.
---
Various high speed grinding sindles &
milling spindles perhaps for wheel & pinion
cutting or cross drilling/milling.
G.P.Potts, Myford + others.
---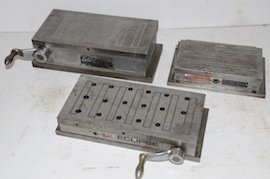 Quality Eclipse Magnetic chucks.
Milling plates. Excellent selection.
---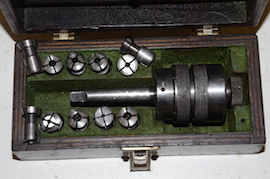 Alfred Herbert (Coventry) No1 Saftap.
Tapping collet chuck with collets in box.
1MT arbor. 11 collets.
---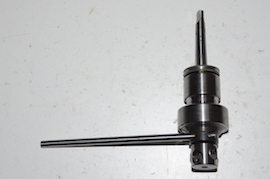 Safe tapping tools.
German Auta1 ANr10
DB Patent on MT1 arbor.
---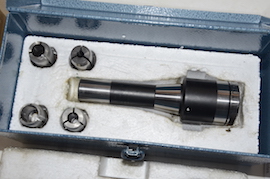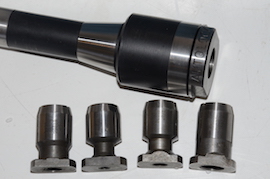 An 'As new' Clarkson "S" type autolock
collet holder & collets. R8 Bridgeport arbor.
Super item. 1/4, 3/8, 1/2, 5/8 imperial collets.
£245
Not sure if used !
Original outer box too.
---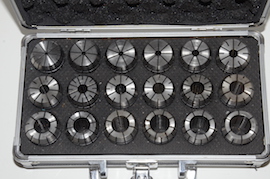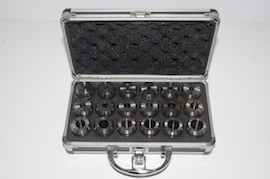 18 x ER32 Collets
2mm to 20mm. Little used.
£75
---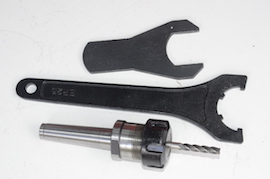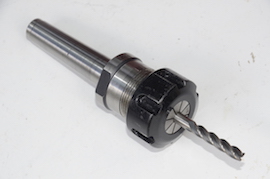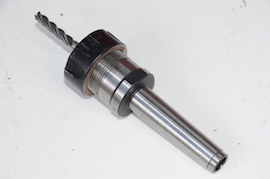 ER25 Collets chuck on 2MT arbor
with 1/4" collet. Comes with spanners.
For milling machine or lathe with drawbar.
£35
---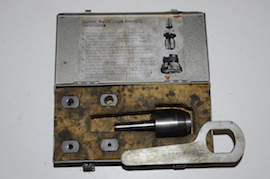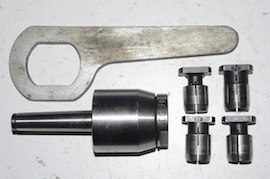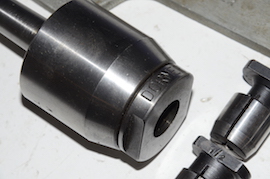 Top quality, precision, Dormer Fastloc
collet chuck and collets. MT2 arbor
Super item. 1/4, 3/8, 1/2 & 5/8 collets.
£195
Excellent Condition, boxed + spanner.
---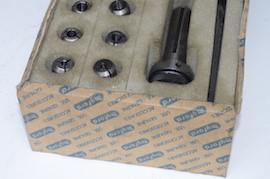 Myford set of collets & R8 holding arbor.
Super condition. Metric 6,10,12,16 &
imperial 1/4, 3/8, 1/2, 5/8.
Above set sold but have another identical Genuine Myford boxed set with the 4 imperial collets: £155
---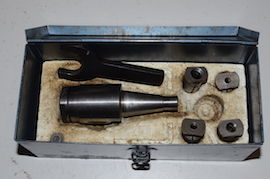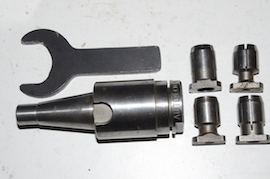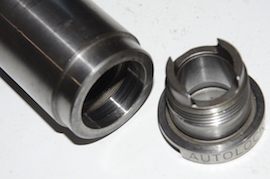 An very nice Clarkson "S" Type autolock
collet holder and collets. 30 INT arbor.
Super item. 1/4, 3/8, 1/2 & 5/8 collets.
£165
30 International Arbor. Boxed + spanner.
---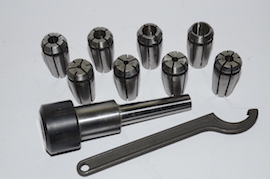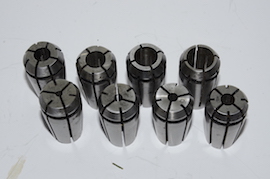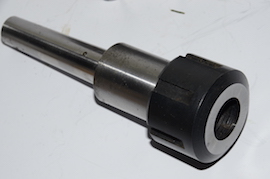 Set of Metric collets with 2MT chuck/holder.
Collets are 4,5,6,8,10,12,14 & 16mm.
Very good pre-owned set. Draw bar option.
£90
---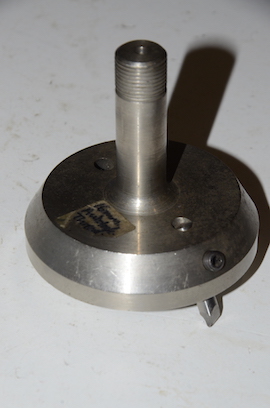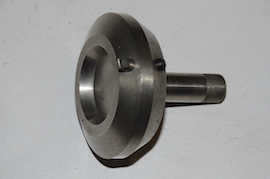 Wonderful quality flycutter with 16mm
Clarkson Autolock thread.
Obviously a professionally made item..
£75
Approx 75mm (3") cutting diameter.
Not the usual rubbish, dare I say !
---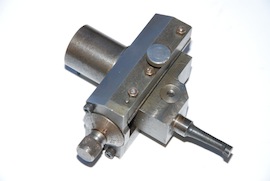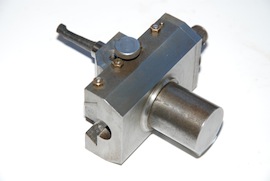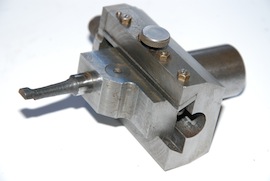 A lovely George Thomas adjustable boring
head. On a 1" diameter parallel arbor.
Perfect for most milling machines.
£ 95
---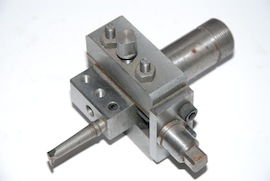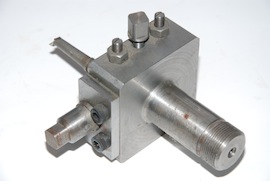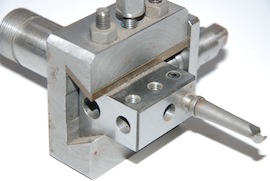 A nicely made George Thomas adjustable
Boring Head. Threaded arbor just under
1" diam. Perfect for most milling machines.
£ 125
---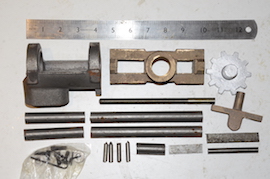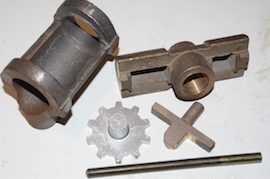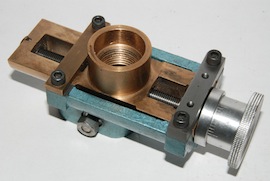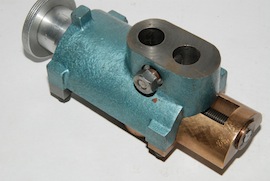 A Dore Westbury adjustable Boring Head
castings. Designed for a Myford thread so
ideal for Amolco, Dore Westbury, etc.
£ 75
Lower photos shows a finished artical.
Please note: Castings for sale.
ORIGINAL SET
---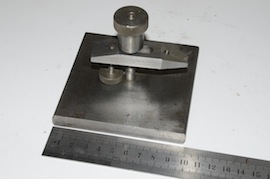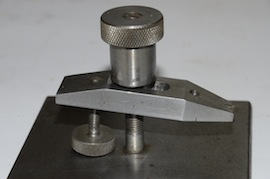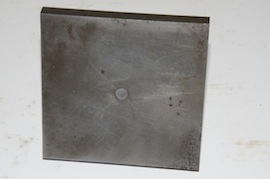 A nice finger plate universal holding / clamp.
Base is approx 4" x 4" and could easily
be drilled for fixing to drill or mill table.
£45 SOLD
---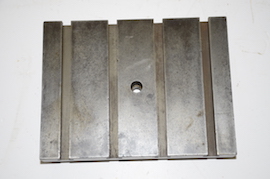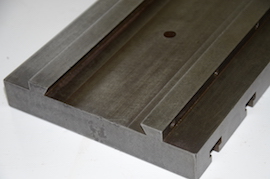 T slotted work plate/table. 8" x 6".
1.3" think, 0.97" thick not including
bottom V slot. Ideal for small mill.
£75
---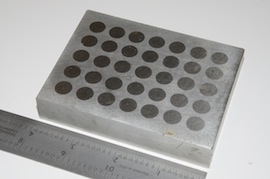 Small magnetic work plate / chuck.
Measures 4" x 3" and 3/4" thick.
£35
---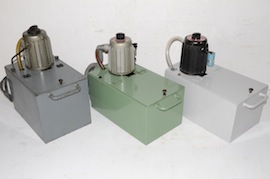 Original Myford (Nottingham) Coolant Pumps
& quality metal tanks. Single or three phase.
Use with any lathe or milling machine.
---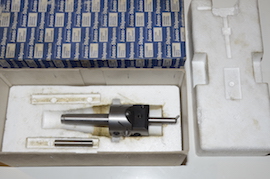 An 'As new' Jones & Shipman J&S
boring head on a 2MT taper. Type 2344.
1.75" across. Uses 3/8 diam. tooling.
£SOLD
---