---
Rishton Milling head and column.
Harrison M300 lathe botton bracket.
Could be used with a compound table.
Fix to rear of lathe bed or use compound table.
Quality Item.
---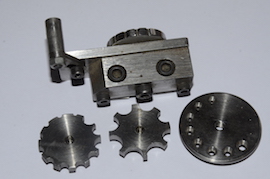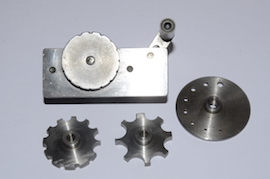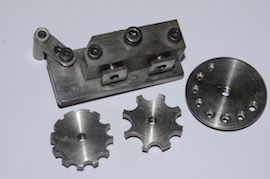 Genuine Cowells Jacot tool for
Cowells CW90 or ME90 lathe.
Clockmaker's must have item.
No longer available from Cowells.
£475
---
Dickson S1 Quick Change Tool post &
holders. Suitable for Colchester Bantam
2000 or similar size lathes.
Genuine Dickson. 73 x 73 x 73mm.
3 Position tool post.
Same size as the Byson T1X.
---
G.P. Potts MT2 tailstock capstan unit.
Original factory item and quite rare.
Will fit your Myford MT2 tailstock.
Wonderful item.
From Troutbeck, Windermere.
Just arrived, the lower red capstan unit.
---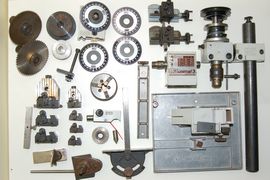 ---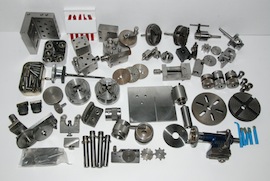 Cowells ME90 & CW90 Accessories
---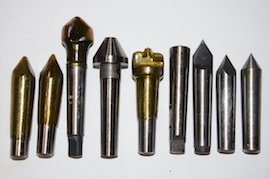 Huge selection of quality centres, full,
half, wood turning, 90 degree countersink,
arbors, etc. 1MT, 2MT, Dorma & others.
£ please call
---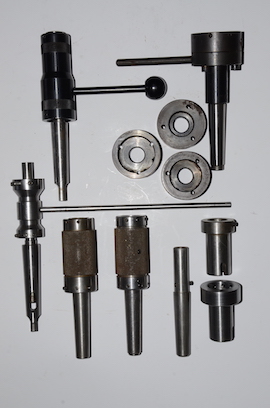 Selection of Die Holders available. 2MT so
ideal for Myford ML10, ML7, ML7,
Super 7 & other lathes. Sliding type.
£ Various
Top right: Arrand with 4 sizes.
Bottom right: Myford Nottingham type.
---
Pratt & Burnerd Dicksons T112 D0143 &
D0153 Quick change tool holders for S2T.
2 x std & 1 x V holder.
98 x 57.6 x 40mm. 28.8mm tool height.
S2T for Colchester Triumph 2000 & others.
SOLD
---