---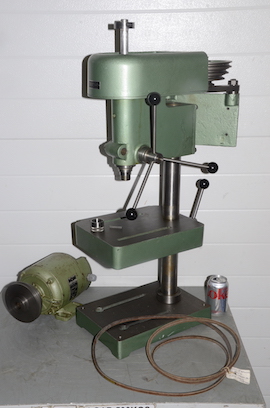 Super rare Cowells 8-MD pillar drill.
Superb medium drill for the model engineer
who likes quality items.
Larger brother to the Cowells 6-MD, of which we have two, shown below.
The 8-MD has a Myford threaded spindle.
---
Very desirable Cowells small pillar drill.
Rare item for the model engineer
who likes small quality items. Type 6-MD
2 arrived, like buses !!
Larger Cowells 8-MD also available.
---
Clockmaker's Wheel Cutting Machine.
Very sturdy design, used for many years
by extremely accomplished clockmaker.
Owned by top Horologist
Has motor, spindle and Minicraft polish facility.
---
Sensitive & Universal drilling machines.
Great little additions to a model workshop.
Ideal for drilling small holes or BA taps.
George Thomas design.
---
Various high speed grinding sindles &
milling spindles perhaps for wheel & pinion
cutting or cross drilling/milling.
G.P.Potts, Myford + others.
---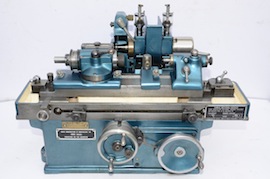 A lovely Jones & Shipman 520
miniature cylinderical grinder.
This is a very rare item.
SOLD
---